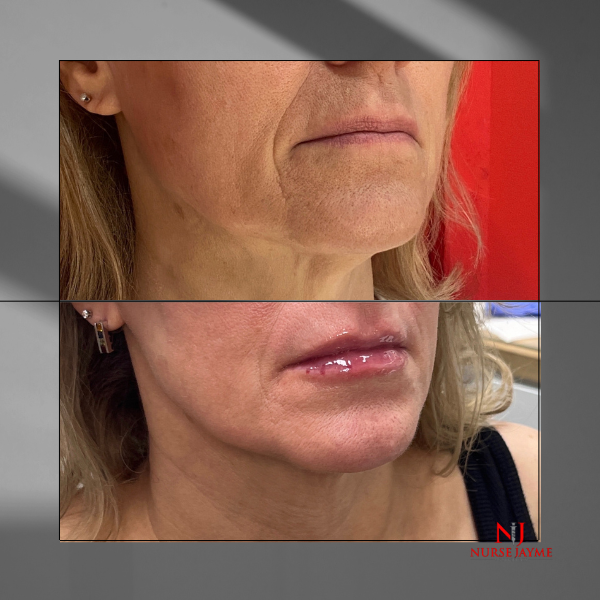 Fillers
What Types of Dermal Fillers Are Available?
Dermal Fillers
As we get older, lines, wrinkles and sagging skin can make us feel less confident and less like ourselves. But luckily, dermal fillers can restore the face with brand new volume, lifting sagging skin and filling out wrinkles so you look more youthful and feel more gorgeous. Here at Nurse Jayme Aesthetics in Andover, MN, we're proud to offer a range of effective injectables that offer unique, tailored results.
Dermal fillers, also known as injectable implants, soft tissue fillers, or wrinkle fillers, are FDA-approved medical device implants sent under the skin to restore volume and youth. They are used to treat facial wrinkles and folds, and can also be used to add volume to lips, cheeks, and other areas of the face. During these treatments, a gel-like substance is injected into the treatment areas to provide results that can last for months at a time. Below are the incredible types of fillers we offer.
Main Treatment areas
Lips

Dermal fillers for the lips offer a plumper and more defined pout. They can add volume to thin lips, define the lip borders, and reduce the appearance of fine lines around the mouth. The result is a youthful, sensuous smile that enhances facial harmony.
Undereyes

The delicate undereye area is prone to hollowing and dark circles. Dermal fillers can gently fill in these hollows, reducing the appearance of tiredness and creating a brighter, refreshed look. Say goodbye to undereye bags and hello to a well-rested appearance.
Cheeks

Cheek fillers provide volume and lift to the mid-face. They combat sagging skin and loss of fat that comes with age, restoring a youthful contour and fullness to the cheeks. This not only improves cheek definition but also reduces the appearance of nasolabial folds.
Jawline

A well-defined jawline is a sign of youth and beauty. Dermal fillers can provide subtle or significant jawline enhancement, helping to sculpt and contour this area. They can also soften the appearance of jowls, restoring a more youthful profile.
Deep Wrinkles

Deep wrinkles, such as nasolabial folds and marionette lines, can be significantly improved with dermal fillers. These fillers add volume and hydration to the skin, effectively filling in wrinkles and restoring a smoother, more youthful complexion. They're a non-surgical solution for turning back the clock.