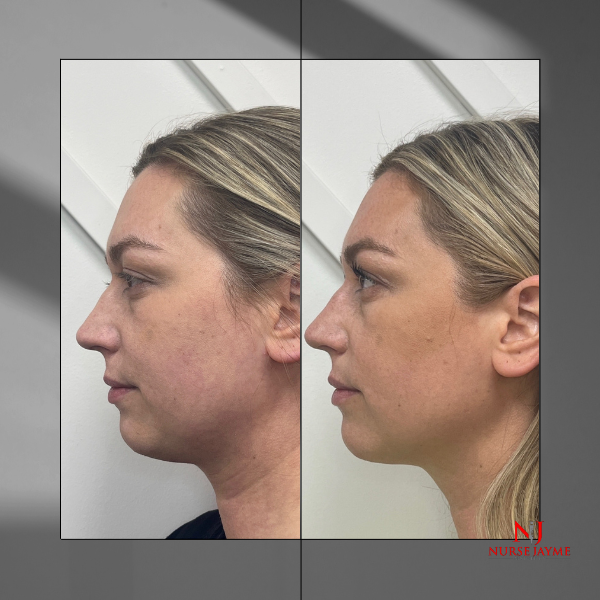 Kybella
The Injectable Double Chin Treatment
Kybella
At Nurse Jayme Aesthetics in Andover, MN, we know that living with a double chin can negatively impact your confidence. For that reason, we offer Kybella, an injectable double chin treatment that works. If you've tried other double chin removal treatments but haven't achieved results, we want you to experience an injectable that will. This double chin treatment is so effective because it focuses on fat reduction and targets the cause of a double chin at the source.
The double chin is a common aesthetic imperfection that affects the appearances and confidence of both men and women alike. Until now, there hasn't been an effective nor safe way to target and treat a double chin.
Thanks to Kybella, now there is an FDA-approved treatment that makes a significant and permanent improvement in the appearance of a double chin. This treatment process can effectively eliminate that double chin, whether you've been living with it for years or have just recently noticed it. This injectable contains a naturally occurring main ingredient called deoxycholic acid. Deoxycholic acid is found in the human body. It plays important roles, including helping the body break down dietary fat. When replicated and used as the primary ingredient in this injectable double chin treatment, it targets the fat cells beneath the chin and along the jawline and breaks them down.
Once the body breaks down the fat cells, it uses the lymphatic system to gradually eliminate them over time. As it does, patients begin to see a noticeable improvement in the appearance of their double chin and entire chin profile.
Frequently Asked Questions
What Happens During the Treatment Process?

When you arrive for your first treatment, one of our experts will apply a topical numbing solution to your target area to ensure that you can maintain optimal comfort throughout the entire process. Then, your injector will make a series of small and quick injections beneath your chin along the chin profile to target your stubborn fat cells.

The treatment process is quick and once it's over, most can go back to your routine day. Your injector will provide some aftercare instructions to ensure that you can protect the treatment site and achieve the best possible results.
When Will I See the Results of the Injectable?

Once you begin a treatment plan with this injectable double chin treatment, you can visually see some results within the first several weeks. However, it typically takes ten to twelve weeks to begin to notice changes in the appearance of your chin profile.

It will take your body time to metabolize the broken-down fat cells, but once it does, you'll see consistent changes in the appearance of your chin.
How Many Treatments Will I Need?

The total number of treatments you will need will depend on the severity of your double chin and the type of results you want to achieve. Some patients wish to eliminate smaller areas with stubborn fat beneath their chin, while others have larger areas they want to treat. That's the importance of an initial consultation because it allows us to evaluate your chin profile in person and determine the total number of treatments you will need to achieve your desired result. Our experts can give you more details at your initial consultation.
What Kind of Results Can I Expect?

Once you undergo the recommended number of treatments, expect visible improvements as your body responds to the treatment process. You will notice significantly decreased fat volume beneath your chin. The submental fullness beneath your chin that's been making you feel less confident will slowly disappear, and you'll have a more sculpted jawline and chin profile.
Are My Results Permanent?

The benefit of this injectable is that not only is it a double chin removal treatment, but it focuses on fat reduction and delivers long-lasting results. Once the fat cells break down and the body eliminates them through the lymphatic system, they cannot grow back or return, and your body won't create new fat cells in that area. However, while this treatment process does eliminate a significant number of fat cells beneath the chin, it won't remove every single one.

If you do gain weight after completing the treatment process, those remaining fat cells have the potential to expand, and if they do, you may experience submental fullness once again. There is a simple way to prevent this from happening, and it involves living a healthy lifestyle, eating a clean diet, and maintaining a consistent exercise routine. Avoiding weight gain during and after your treatment will ensure that you maintain permanent results and enjoy a sculpted jawline long-term.