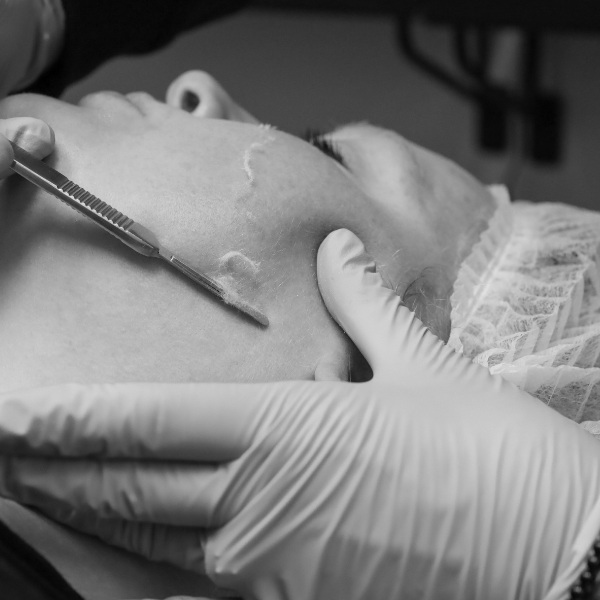 Chemical Peels & Dermaplaning
Chemical Peels
A chemical peel is a skincare treatment that exfoliates the skin with a combination of acids. They contain exfoliating acids and anti-aging ingredients that dissolve dead skin cells and, depending on their strength, can remove different layers of the skin to combat skin imperfections. If you are looking for a skin resurfacing and skin rejuvenation treatment that will make a noticeable difference in the health and appearance of your complexion, a chemical peel is a perfect option.
Post-treatment, you will achieve smoother skin, brighter skin, and an improved complexion. Because different skin types tolerate different strengths and combinations of exfoliating acids, we offer several different chemical peels so that patients with all different skin types can experience the skin rejuvenation and skin resurfacing benefits that accompany these treatments.
If you're not sure which type of peel is right for you, one of our experts can evaluate your skin during your initial consultation to customize your treatment plan with the right chemical peel to improve your complexion without over-drying or irritating your skin.
Types of Peels
Light Peels

Light chemical peels are perfect for patients who have never experienced a chemical peel before and want to start slow or who have more sensitive skin. Light peels contain the weakest combination of acids but still deliver effective treatments and help you achieve visibly brighter skin immediately following your treatment.

If you are interested in adding a peel to your skincare regimen, we often recommend that you begin with a light peel to ensure that your skin can tolerate the acids and then work up to more advanced peels. The benefit of light chemical peels is that they won't typically result in redness or noticeable peeling, but they will improve your skin, making them a perfect peel to schedule before a special event or when you don't have time for downtime.
Skinmedica Illuminize Peel

Illuminize Peels contain a combination of alpha-hydroxy acids, including mandelic, malic, phytic, salicylic acid, and resorcinol, and will deliver rejuvenation without irritating the skin. One of the benefits of this particular peel is that there's no downtime, so this is the perfect option if you're looking for a powerful peel to schedule before a special event.

You'll see results after one treatment and can schedule treatments every two weeks or as needed to continue to perfect your skin over time. This peel is a good option for those who struggle with common skin imperfections, including large pores, uneven skin texture, fine lines and wrinkles, sun damage, hyperpigmentation, age spots, sunspots, and uneven skin tone.
Skinmedica Vitalize Peel

Vitalize Peels are a perfect option for patients who want to target more noticeable and stubborn skin concerns, including environmental damage, sun damage, and the more advanced signs of aging. It can also help treat hyperpigmentation, acne, and poor skin tone and texture. Vitalize Peels are stronger than the Illuminize Peels and produce the best results when scheduled consistently every three to four weeks.

Most patients need three to six Vitalize Peels to achieve the most noticeable results. This peel requires very little downtime and will make a noticeable difference in the appearance and health of your skin.
Skinmedica Rejuvenize Peel

The SkinMedica Rejuvenize Peels are the strongest chemical peels from this line and provide the deepest and most advanced level of exfoliation. Rejuvenize Peels require very minimal downtime but target hyperpigmentation, advanced sun damage, acne, and accelerated aging. The best results appear after completing a treatment plan that includes three to six peels with a month between each.

The best candidates for the Rejuvenize Peel are those who have achieved results with the Vitalize Peel and want to take their treatment to the next level with a stronger peel with a higher concentration of exfoliating acids.
Dermaplaning
At our office, we offer dermaplaning, a form of physical exfoliation that can be scheduled in combination with your peel to enhance the results. Dermaplaning is a simple and effective treatment that takes the results of your chemical peel to the next level. During the treatment process, your aesthetician will use a medical-grade scalpel and, holding it at a precise 45° angle, will gently scrape the dead skin cells from the top layer of your skin, taking with it any fine hair and build up.
The treatment is painless and works well on all skin types because it's gentle yet effective. Scheduling it with a peel will allow the acids in your chemical peel to penetrate deeper into the skin by eliminating the dead skin cells from the uppermost layer of the skin. We can evaluate your skin during your initial consultation to determine if you would benefit from adding dermaplaning to your chemical peel.
What Pairs With Peels & Dermaplaning
Ready for a more youthful and radiant you?
Let's schedule your microneedling and dermaplaning facial appointment today!
Contact Us